2. July 2021
In the current issue of Technik in Bayern, the magazine of the Association of German Engineers (VDI), the informative summary of the presentation on 3D printing in surgery by the co-founder of ANAMOS, Dr.-Ing. Hannah Riedle, is published.
Many thanks to the VDI for organizing the event and for the kind publishing of this article!
The entire article can be read here.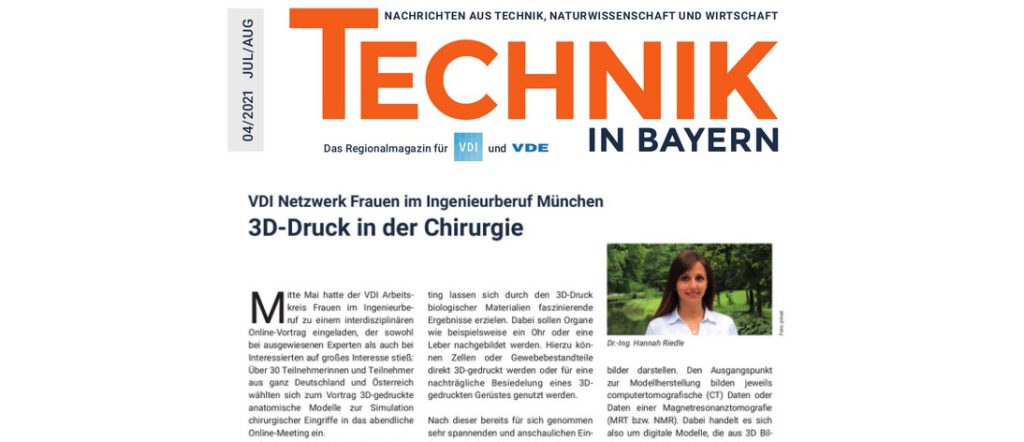 4. June 2021
ANAMOS is one of the few Europe wide selected start-ups to present their company and business model at the Investor Days Thüringen on June 15th and 16th.
The interactive digital event format showcases a wide range of latest technologies, innovative business models as well as exciting pitches and also offers numerous networking opportunities with over 600 national and international shapers of the innovation ecosystem, startups, tech-growth companies, venture capitalists and SMEs.
Meet the founders of ANAMOS at their virtual booth in the digital innovation arena. We are looking forward to exciting conversations, inspiration and networking!
Registration for the Investor Days Thuringia 2021 is possible for interested participants as well as investors until June 13th via this link.


10. May 2021
At the 3D Heals webinar "Advancements in 3D Printed Anatomical Modeling", May 20th, from 5.30 p.m., Hannah Riedle from ANAMOS will present 3D printed generic anatomical models for surgical simulation. Furthermore renowned experts such as Professor Bernhard Dorweiler, M.D., and Julian Fürmetz, M.D., will share their insights and interesting clinical usecases of 3D imaging and printing, as well as Björn Petersen and Simon Enzinger, who will give an overview of 3D printed models in maxillo- and craniofacial surgery and software for 3D printing.
Everyone who is interested in new technologies in 3D printed anatomical modeling and its latest applications is welcome to join! Just register here.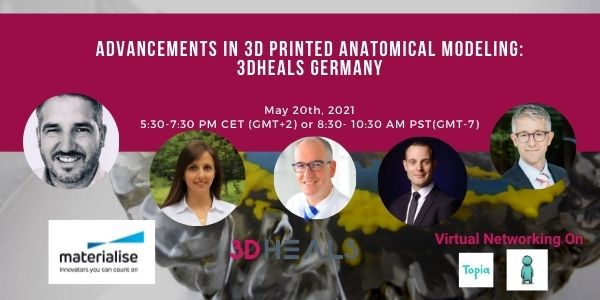 26. April 2021
At the invitation of the Association of German Engineers (VDI), Hannah Riedle will bridge the gap between engineering sciences and medical technology with her informative talk to Europe's largest network of female engineers VDI fib on May 5 at 7:30 p.m. After a brief introduction to 3D printing and digital model creation, she will present specific use cases of this additive manufacturing technology in medicine and medical technology.
Also non-members are welcome as guests and can register here.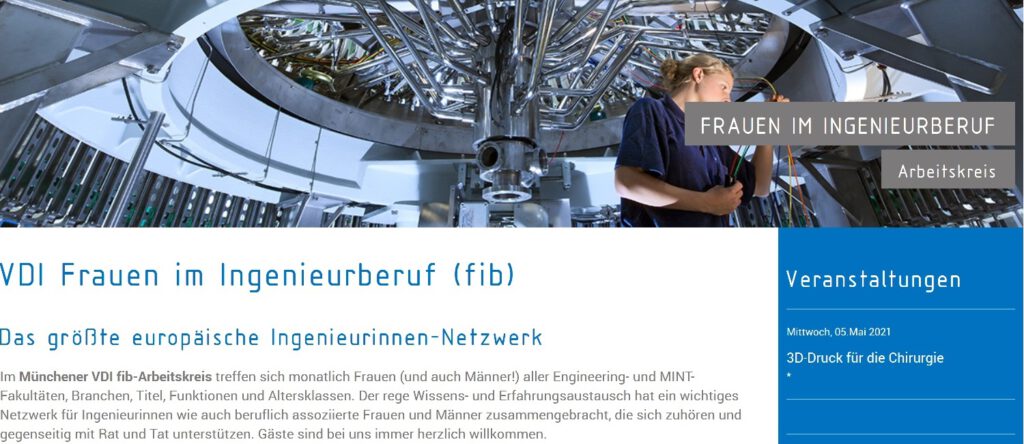 5. April 2021
ANAMOS is one of the 6 nationwide selected start-ups to pitch to a selected group of international life sciences & health investors at the 10th BioAngels Pitch Day on April, 21st.
Many thanks to BioM, the network organization of the biotechnology industry in Bavaria, for counting us among the innovative "BioEntrepreneurs" of the country and offering us the opportunity to present ANAMOS and its products to this exclusive audience.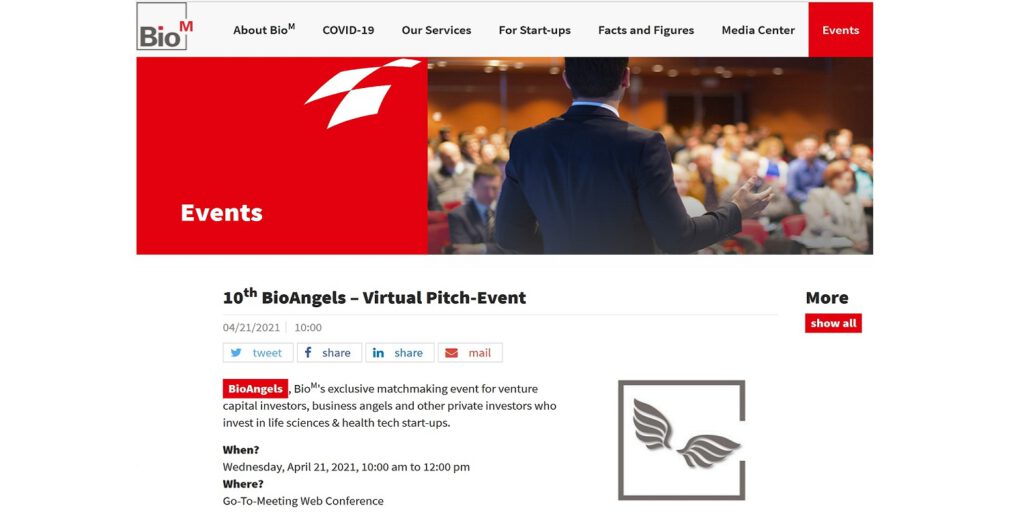 10. March 2021
As part of the two-day symposium "Digitization in Medical Technology – Towards the Human Digital Twin", Hannah Riedle will present ANAMOS´ anatomical models for medical simulation on March 11th at 1:45 pm.
The online symposium, taking place on March 10th and 11th, offers the opportunity to gain exciting insights into the latest trends in the field of digitization in medical technology, in particular the generation and processing of biodata as well as data security, from innovative technology providers and creative scientists.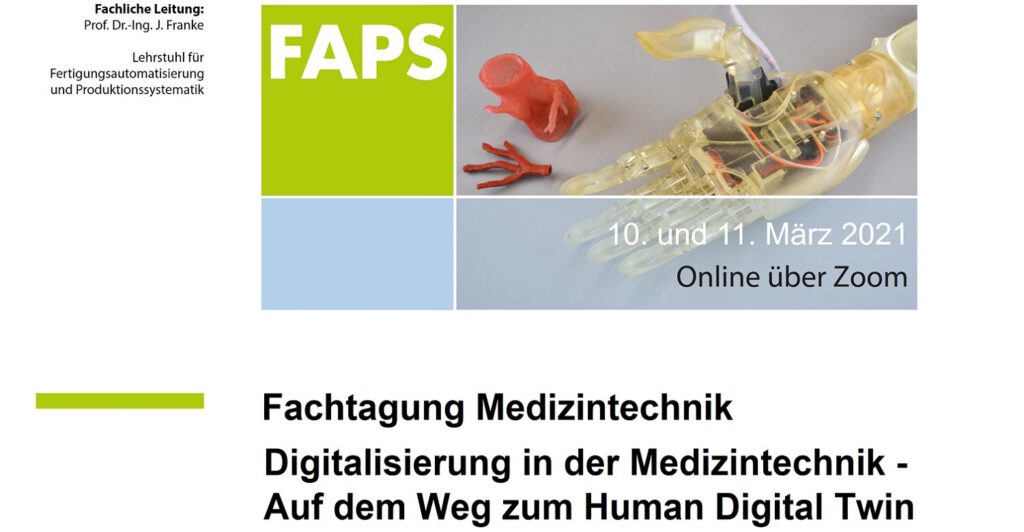 2. March 2021
We are pleased to be one of the Europe-wide selected 10 startups that was allowed to pitch in front of an exclusive audience at today´s MedTech Pitch Day.
Thanks a lot for the invitation to High-Tech Gründerfonds, Philips Health Innovation Port and B. Braun Foundation. We enjoyed to present ANAMOS and our innovative 3d printed anatomical models to international investors, medtech companies and start-ups.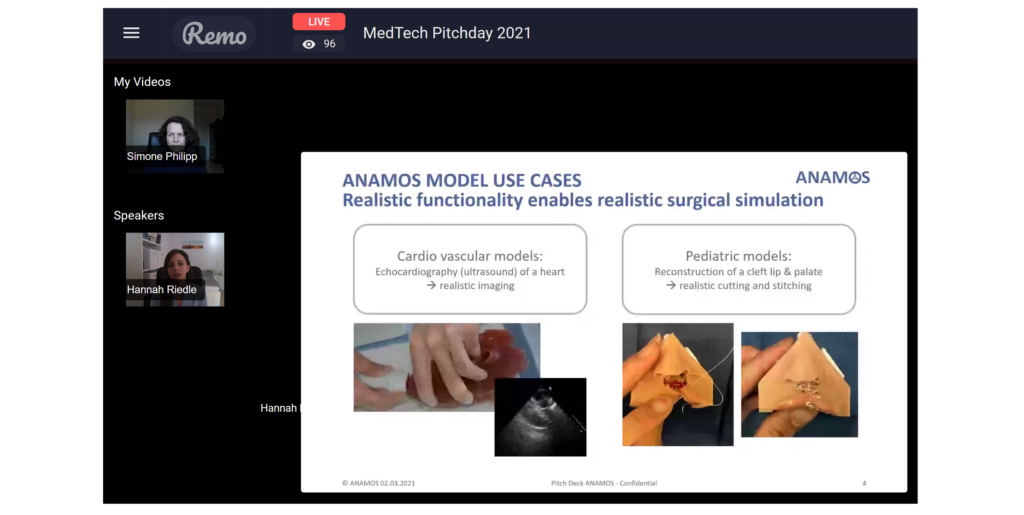 22. January 2021
ANAMOS won the second place at the nationwide Road to START Summit 2021.
Thanks a lot to jury for this award and their kind feedback regarding our innovative business idea and our anatomical models.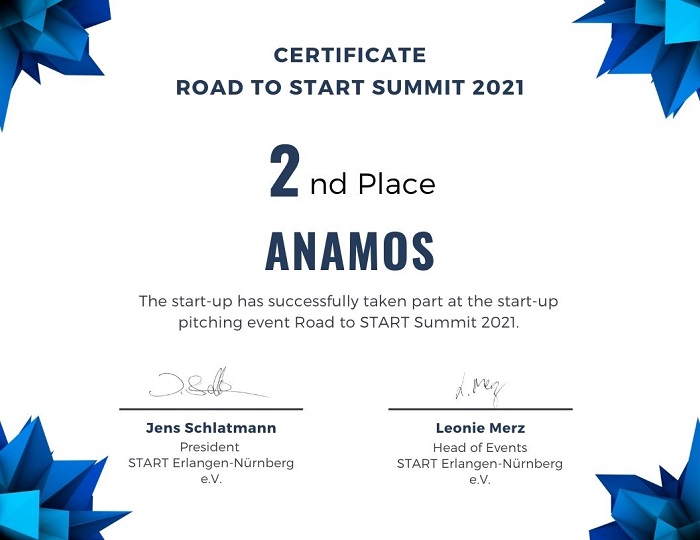 11. January 2021
Thanks a lot to BayStartUP for their invitation to the Startup Demo Night!
On January, 26th, from 7 pm ANAMOS exclusively presents its team, prototypes and anatomical models in a practical and user-oriented manner to a large network of investors, business angels, startups and like-minded people.
Also interested persons outside the BayStartUP network can register as spectators for the Startup Demo Night here.
We are very excited about this opportunity to present our anatomical models and fascinating use cases to a broad audience!

7. January 2021
ANAMOS is one of the nationwide selected 10 start-ups to present at the Road to START Summit 2021 on January 21st their business idea to a top-class jury from business and science and an interested audience.
We are already looking forward to our competitors, to exciting questions from the expert jury as well as the exchange with the participants.
The event will be held in English and will start at 6 pm, while Team ANAMOS has its turn around 8 pm. From 8.45 pm onwards there will be the opportunity for networking in virtual breakout sessions for all interested parties.
Those who have interest are cordially invited to join the Road to START Summit under this link.

11. November 2020
The ANAMOS heart model has won this year's international innovation prize for 3D printing at the purmundus challenge. The prizes in seven categories were awarded on November 11th at a virtual ceremony within the Formnext fair. Thanks a lot to the purmundus challenge expert jury for this great award as well as their kind justification "The award winners have been working on a fancy technology that, along with novel 3D printing methods, can help mankind".
We are incredibly proud to be counted among the most innovative 3D printing designers worldwide as winner of the purmundus challenge innovation prize 2020. This award reinforces our commitment and our goal to open up new possibilities in surgical simulation through our rich portfolio of configurable 3D models of any anatomy and pathology, as well as to increase efficiency in various medical disciplines for the benefit of people.

Please keep in mind: The voting for the purmundus challenge Public Choice Award is open until November, 22nd. We hope that the 3D printed ANAMOS heart model with its correct anatomical geometry as well as its realistic functionality and haptics is one of your favorite designs and will get your vote!

12. Oktober 2020
We are very pleased to be among the finalists of the purmundus challenge, which is one of the most important awards for design in 3D and 4D printing worldwide. Especially since the winners of this design competition set strong trends in 3D and 4D printing within the international design industry. Thanks a lot to the purmundus challenge committee for the nomination of our heart model!

There is more to come… So please come back regularly and read the latest news about ANAMOS, press releases and publications, as well as exciting information about 3D printing and surgical simulations.
You don't want to wait any longer? Then get in contact with us!